Operational Intelligence is the partnership of continually synchronized people, processes and technology
Why Operational Intelligence and why now?
The days of doing business as usual in healthcare were finished even before the global pandemic. Every health system in the globe had been battling issues like rising expenses, aging populations, chronic health issues, outdated equipment, and overworked employees. And, while addressing many challenges, the digital transformation also brought its own, from data and interoperability disconnects to knowledge shortages.
Healthcare leaders have worked hard to redefine healthcare by moving to the value-based care model. And yet, there is still a tendency to expect technology and AI to act as a panacea rather than an enabler. Reports indicate that a fifth of healthcare spending gets wasted and could be eliminated without undermining performance.
We believe that adopting a more integrated, service-based healthcare model with a focus on behavioral change that connects the silos and builds relationships could optimize spending and is the logical next step.
What is Operational Intelligence?
Operational Intelligence is the partnership of continually synchronized people, processes and technology. This operating model turns the current trend to think and prioritize technology first, on its head by combining three critical components to create and deliver a healthcare organization's products and services to result in profitability and growth.
What began as an idea about how a hospital system and a technology provider could better work together has become a powerful new way of working for hundreds of Philips and healthcare professionals.
A new integrated operating model for the service of care
How Operational Intelligence works?
Rather than operating as a sales organization, when Philips Services & Solutions Delivery partners with a healthcare provider, we bring our Operational Intelligence approach to merge skills and capabilities. This approach to working together offers cumulative gains, unlocking hard value but also the softer, more people-powered value that is harder to achieve and quantify but delivers such significant benefits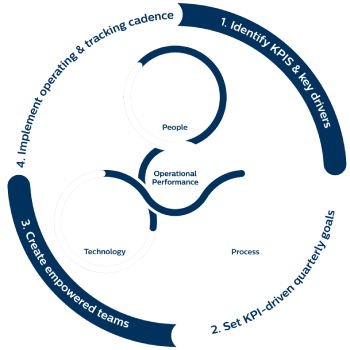 People
Working as one: Philips peoples' skills merge with yours for continual, cumulative improvement…
Process
Operational Intelligence doesn't subscribe to process for process sake; instead, it unlocks intelligent, tailored processes. The opposite to the common one size fits all, Operational Intelligence demands that processes are fine-tuned and cocreated together.   
Technology
Technology is an enabler; Operational Intelligence makes it both connected and interoperable by breaking down silos to provide a comprehensive, ongoing overview of how technology is required and be utilized (by humans and systems) now and in the future.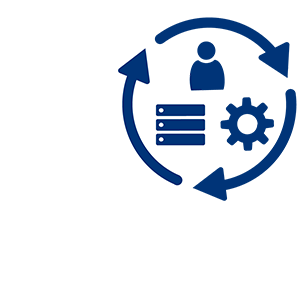 "At the end of the day, care is a human activity. Technology is not there to replace caregivers, it is there to support them."
-Conrad Smits
Head of Philips Services and Solutions Delivery
Breaking down silos in healthcare, building relationships
Why does Operational Intelligence work?
The challenges of healthcare cannot be solved alone and yet true collaboration can be hard to achieve, with goals, approaches and working styles often misaligned. With Operational Intelligence, our Philips people, processes and technology align and merge with yours to deliver a transformative partnership that is continually synchronizing to self-optimize.