Genshin Impact is an action role-playing game developed and published by miHoYo. It was launched in 2020 for Microsoft Windows, PlayStation 4, iOS, and Android. It will be released on Nintendo Switch in 2021 and on PlayStation 5 in 2021.
Genshin Impact is supposedly an open-world character action game in which you play as "the traveller," who is sent to the realm of Teyvat after a brief battle with an unidentified enigmatic god. You can also play as your twin, who is of the opposite gender, if you so choose. With the help of the adorable but slightly grating Paimon, who acts as your Navi-style world guide, you are very gradually lulled into Teyvat. Soon after, you run into Amber, an archer for the nearby town who joins your team and brings you to Montstadt, your center of operations for the early game.
Genshin Impact's prologue and early plot aren't especially remarkable, but that's not really the idea. You'll soon get access to two more characters, bringing your group total to four as you travel the world. The analogies to Breath of the Wild stem from the exploration being engrossing, with your characters gliding, climbing, and cutting their way through the landscape. Although the game is obviously inspired by Nintendo's smash-hit from 2017, it seems more like an extension of Breath of the Wild's foundation than a straightforward clone.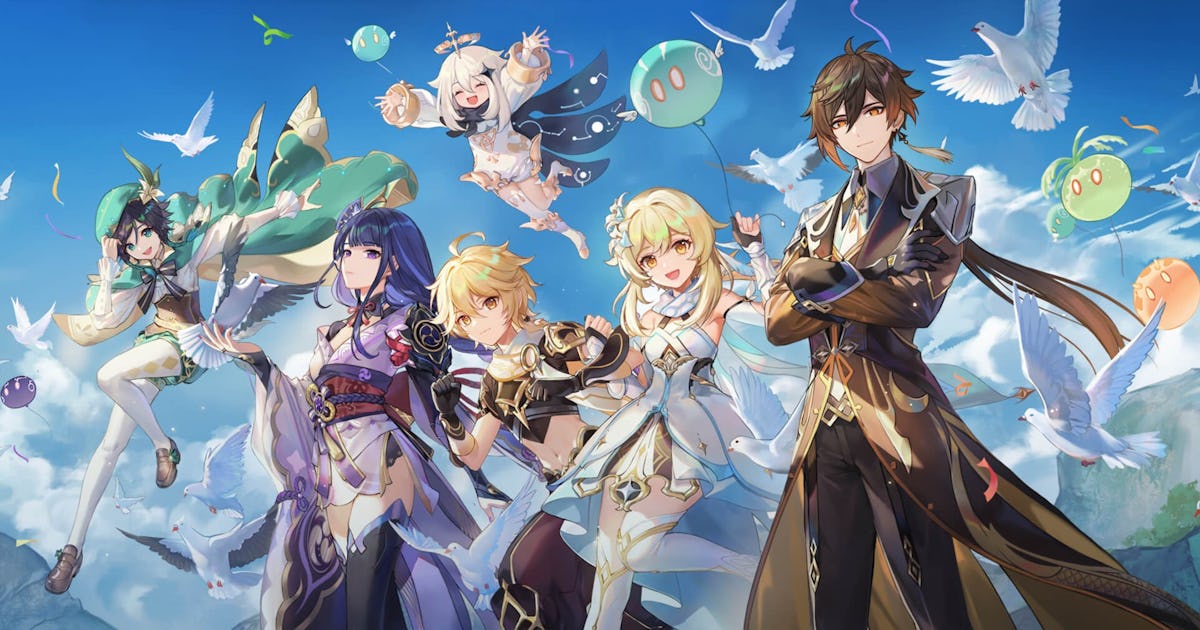 The way Genshin Impact rewards exploration has been its finest trick. The Anemoculus and Geoculus, Genshin Impact's equivalent, give you important prizes in addition to boosting your stamina, whereas Breath of the Wild's Koroks may not have done much for you. Following them can lead to significant rewards that connect to other systems included into Genshin Impact. Your awards are available for spending in town, where you can get money, upgrade materials, and other things with them. In this way, Genshin Impact forces you to interact with its many mechanics, and it appears like you'll need them if you want to progress through its latter levels.
Genshin Affect's characters are its heart; they have an impact on your gameplay, exploration, and, most crucially, how much money you'll unavoidably pay. Barbara, a very straightforward vocalist who performs for the knights and is animated in the traditional "Moe Moe" style, to the more sophisticated DIluc, a brooding vineyard owner with a very, very large sword. Each character has one of five different sorts of weapons, which determine how you play: swords, claymores, polearms, bows, and catalysts. It's a good combination to employ an archer to swat foes away from you and then swap to a greatsword user when they come close. When you add elements to the equation, things start to become interesting. It will cause far more damage if I use a melee-focused electrical character after making an enemy wet with one of my ranged catalyst users.
With the addition of each character's skills, Genshin Impact quickly transforms into a fun hack and slash game with a side of imaginative elemental boons. With all of this in effect, Genshin Impact resembles the skill-based Dragon's Dogma more so than Breath of the Wild. Genshin Impact performs best when put up against difficult bosses or challenges because it then exposes itself to be a game with some depth.
Genshin Impact's prologue only offers a small number of basic characters, but as you progress and reach "Adventure Rank 7," which is effectively your level, the game becomes more forgiving. To "Wish" on one of the game's four promotional banners, you are rewarded free in-game currency. These increase your likelihood of obtaining quality characters or weapons. This is not unusual when it comes to gacha games. The way the rates for obtaining the greatest characters operate in Genshin Impact is unusual.
The likelihood of receiving one on any given banner for what most people consider to be the best characters—those with a five-star rating—is just 0.6%. It doesn't look well when compared to comparable gacha games like Fate/Grand Order, which claims a 1% rate. Due to their "pity" system, if you roll 90 times, you are guaranteed one five-star item or weapon. Therefore, individuals considering purchasing the game should be cautioned that it is quite harsh. Fortunately, it doesn't pressurize you too much by forcing you to spend money.
Additionally, Genshin Impact will never run out of things to do. In addition to the major story quests, the world is designed in such a way that there is always something new to discover, whether it be a chest guarded by monsters, a collectible to upgrade your characters, or a daily challenge to complete. It's a calming journey through a beautiful environment, and as more locales are probably going to be added, it's only going to expand.
Even though Genshin Impact is still in its beginnings, it already feels as though a new age of "gacha"-style games with AAA quality and free entrance has begun. Genshin Impact is not yet a titan; it has already arrived. One thing is certain: its arrival will have an impact on the games business, which is starting to significantly diversity how games are priced and delivered. Genshin Impact will continue to exist.